With their unique design and performance characteristics—such as directional light emission, compact profile, superior optical control, energy efficiency, breakage resistance, reduced maintenance, and long life—LEDs are well suited to a variety of lighting applications. LED products are most competitive in applications where these performance characteristics outweigh their first-cost disadvantages. Although LED products are finding success in a growing number of applications, a number of factors must be considered when comparing LEDs to conventional lighting.
In the rapidly changing LED marketplace, "do your homework" remains the watchword. While high-quality LED products are now available for many lighting applications, some manufacturers' claims concerning their LED devices are not borne out in independent laboratory testing by the Department of Energy. Several sources of information are essential to sound buying decisions: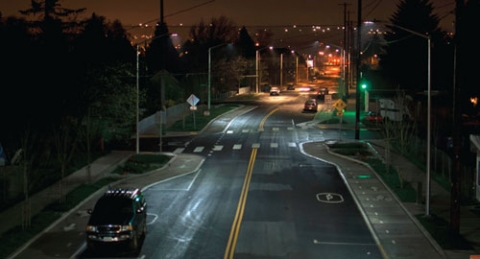 Photo from a GATEWAY demonstration of roadway lighting in Portland, Oregon.
With ongoing research and product development, SSL performance has been increasing steadily. Today, many well-designed SSL products can achieve appropriate light distribution in addition to high efficacy and adequate light output. Market segments where LEDs have made the greatest inroads to date include residential recessed downlights, kitchen undercabinet lighting, portable desk/task lighting, and outdoor area lighting. On top of their superior efficacy, SSL products can be more controllable than traditional lighting technologies and their lifetimes are not impacted by frequent on-and-off cycling. Adjusting actual usage to better reflect the application's needs—for example, with an occupancy sensor—could result in even greater energy savings.
RESOURCES